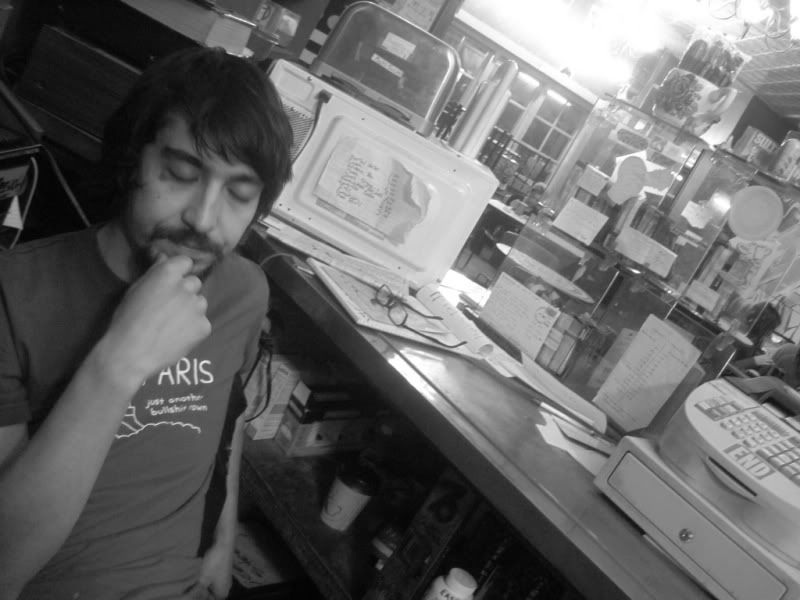 The fourth trajectory:

With a battered, toe-dug boottread, Poplar stopped at the sound. His hollow breath hellered a slow cut as the noise accordianed up and down the tunnel. It was low, and herded the ear like a swift dog in sharp, soft coat.
Lo, the ground, thought Poplar. He bent, just aslight. It was My's voice, he was madly sure, caressing the tunnel walls (wall, really, it being a round tunnel) through the dark vodaer.
'Low the ground, the air is cooler/Low, the ground, and shakes above/'Llow the ground, "Forget the Birdsun"/Lo, the ground, my love.
Poplar waited until the last echo died to step on. His bright eyes stabbed to affront the tar vodaer as his belted, layered legs swam through.
What fools were his brothers, let left themselves above in the choke. He had a glance upward at the pitch ceiling of the tunnel and slipped, silent, a word for the each of them, surely dead on the fool, burnt surface of the Birdbelly. His brothers who had been. Once were we're, now just were.

Sew'd. Bath'd. Orn'd.

Just words, now, hard and hardly spoke and wheeled into the tunnel. Echoing, hardly, against the hum of My.
Further, he heard her and smiled as he trudged the tunnel. He knew she couldn't've been gone, just ducked under by that fell'd 'scraper. Not crushed, only pressed through the dirt into the tunnels below. Where he would find her in the dark.
Poplar smiled and then a new sound came from the birdsoil around him.

SOUGHT WAS IT.
AND EATEN WAS IT.

Sod, was it, that began to list on Poplar's shoulders like dark ash. The sound, the voice, had startled the tunnel and it was a worry, for once, in him that the cave might be in for it.
And, true, did the grit corridor crumble and pill apart. But not in and upon poplar, out and away it shot.
Poplar shut his eyes when it happened. When the birdsoil above him crumbled upward, fast and hard, with a shock gallop of soursick wind and grit made of a crusted yellow, if a color has a crust. The ceiling flew skyward and apart and left Poplar in a clawed-out pit. A crater created backwards, from a flown floor flung above.
When he was sure the sound had unspoken, he spoke a peek. The sky, the horrible buildings, the birdcity, and he was in it, again.
A hallow sound bellied from him and he fell, half flinging his wont to the birdsoil. Tears tore at his mad eyes as his claws tore the ground, flying grit and clod above him like the exploded soil had just.
And he dug. And he dug. And he dug.